Conference Venue
The conference will be held at the Florida Institute of Human and Machine Cognition (IHMC).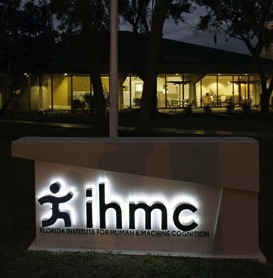 Contact and directions
IHMC Pensacola 40 South Alcaniz Street FL 32502, USA 850.202.4462 Google Maps
Venue Background Information
IHMC is a not-for-profit research institute of the Florida University System and is affiliated with several Florida universities.
Researchers at IHMC pioneer technologies aimed at leveraging and extending human capabilities. Our human-centered approach often results in systems that can be regarded as cognitive or perceptual prostheses, much as eyeglasses are a sort of ocular prosthesis. These systems fit the human and machine components together in ways that exploit their respective strengths and mitigate their respective weaknesses. The design and fit of computational prostheses require a broader interdisciplinary range than is typically found in one organization, thus IHMC staff includes computer scientists, cognitive psychologists, neuroscientists, physicians, philosophers, engineers and social scientists of various stripes, as well as some people who resist all attempts to classify them.
Current active research areas include: knowledge modeling and sharing, adjustable autonomy, robotics, advanced interfaces and displays, communication and collaboration, computer-mediated learning systems, intelligent data understanding, software agents, expertise studies, work practice simulation, knowledge representation, and other related areas.
More about IHMC.
More about Pensacola
Pensacola is the westernmost city in the Florida Panhandle and the county seat of Escambia County, Florida, United States. Pensacola is a sea port on Pensacola Bay, which connects to the Gulf of Mexico. A large United States Naval Air Station, the first in the United States, is located southwest of Pensacola (near the community of Warrington) and is home to the Blue Angels flight demonstration team and the National Naval Aviation Museum. The main campus of the University of West Florida is situated north of the city center.
The area was originally inhabited by Muskogean people. The Pensacola people lived there at the time of European contact. Pensacola Bay was the site of Spanish explorer Tristán de Luna's short-lived settlement in 1559. In 1698 the Spanish established a presidio in the area, laying the foundation for the modern city. It changed hands several times over the next several years. Pensacola is nicknamed "The City of Five Flags" due to the five governments that have flown flags over it during its history: the flags of Spain (Castile), France, Great Britain, the Confederate States of America, and the United States. Other nicknames include "World's Whitest Beaches" (due to the white sand prevalent along beaches in the Florida panhandle), "Cradle of Naval Aviation" (Naval Air Station Pensacola is the home of both the legendary Blue Angels and the National Museum of Naval Aviation), "Western Gate to the Sunshine State", "America's First Settlement", "Emerald Coast", "Redneck Riviera", "Red Snapper Capital of the World", and "P-Cola".
For more on Pensacola, please visit: www.cityofpensacola.com and visitpensacola.