Esta página aún no ha sido traducida. A continuación se muestra la página en inglés.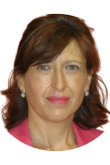 jueves 13 de abril de 2023
10:00am Zoom4 - https://zoom.us/j/4911012202
Silvia Pascual Ortiz, Expert in equality and diversity, OpenExO
Course on Diversity & Gender Equity
Contents:
Introduction to Diversity & Gender equity
Gender bias at work
Workplace Policies and Practices that stymie Progress
Address Gender Equity in Your Workplace
This course is for IMDEA Software staff only.
Bio:
Silvia Pascual Ortiz is a certified Open ExO Coach, Trainer, and Consultant who has been working in the gender equality and diversity arena since 2010, helping organizations to build Gender Equality Plans, delivering awareness training on gender equality and diversity subjects, gender bias, etc. Silvia Pascual Ortiz has also designed women mentoring programs and implemented internal awareness systems based on weekly short articles for internal discussion and to increase self-awareness about gender and diversity subjects.