Irfan Ul Haq
La información de esta página podría estar desactualizada debido a que Irfan Ul Haq no es actualmente miembro del Instituto.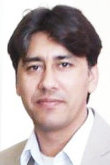 MSc - Universidad Nacional de Ciencias y Tecnología, Pakistán
Antiguo PhD Student

Tutor
:
Juan Caballero
Esta página aún no ha sido traducida. A continuación se muestra la página en inglés.
About
I am a PhD candidate at IMDEA Software Institute. I am working under the supervison of Juan Caballero.
I did my Master of Sciences in Information Technology (MSIT) from NUST School of Electrical Engineering and Computer Science (SEECS) in 2010. I worked on my thesis under the supervision of Syed Ali Khayam. View further details on my homepage.
Publications
Research Interests
System and Network Security, Intrusion/Anomaly Detection, Binary Analysis, and Software Defined Networking (SDN).