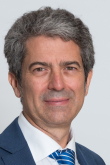 Tuesday, April 19, 2022
3:00pm Lecture hall 1, level B
Gabriel Castilla, Head of engineering, PONS IP
Course on Intellectual Property Rights: Introduction
1.1. Modalities of Industrial Property (IP) protection.
1.2. Intellectual Property. Differences with Industrial Property.
1.3. What is a Patent?
1.4. What inventions can be protected?
1.5. Why protect by patent?
1.6. Patent holder vs. inventor. Work-related inventions.
1.7. Scientific article vs. Patent.
1.8. Use of information or knowledge contained in patents (or patent applications) of third parties.
This course is for IMDEA Software staff only. Also available online via zoom.