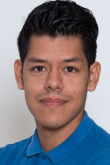 Tuesday, April 26, 2022
3:00pm Lecture hall 1, level B
Dennis Cumba, Patent Technician, PONS IP
Course on Intellectual Property Rights: Content of a patent
2.1. Patentability requirements. Exclusions. Parts of a patent.
2.2. Computer-implemented inventions (patentable software).
2.3. Protection strategy and territorial scope.
2.4. Extensions and International agreements (European Patent and PCT).
2.5. Artificial intelligence. Patent protection.
2.6. Doubts and queries.
This course is for IMDEA Software staff only. Also available online via zoom.