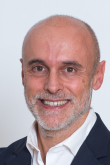 Tuesday, May 10, 2022
3:00pm Lecture hall 1, level B (only IMDEA Software staff, also online)
José Carlos Erdozain, PhD in Civil Law, PONS IP
Course on Intellectual Property Rights: Alternatives to a patent for the protection of a computer program. Intellectual property. Implications of the Metaverse and artificial intelligence
4.1. Legal concept of software.
4.2. Software created as a collaborative work and as a collective work.
4.3. Software developed at enterprise level.
4.4. Registration of a computer programme
4.5. Metaverse. NFTs. Legal implications from the point of view of the protection of intangible assets.
4.6. Doubts and queries.
This course is for IMDEA Software staff only. Also available online via zoom.