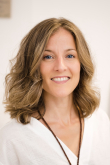 Wednesday, June 8, 2022
3:00pm Lecture hall 1, level B
Cristina Muñiz de la Peña, PhD, CCEP
Wellness in the Midst of Chaos
Contents:
What threatens our sense of wellness?

What does it mean to experience wellness?
Sources of anxiety, distress, and toxic stress… in the academic field?
Our emotions as a mind-body experience
How do our body and mind respond to stress?

How can we recover and maintain a sense of wellbeing?

What are ways to take care of ourselves in the midst of chaos?
Personal Self-care: to know and care for our needs, and boundaries
The role of social and emotional support: sense of belonging and community
Professional services and supports

What types of mental health services are there?
What's to be expected in therapy?
What kinds of therapies are out there?
How do I pick a therapist or mental health service?

Barriers in the pursuit of wellness

Access barriers, social barriers
Stigma, misconceptions, and false beliefs
This course is for IMDEA Software staff only.
Objectives:
To review the concepts of wellness, anxiety, emotional distress, and toxic stress
To help participants identify signs of psychological difficulties
To learn different levels of intervention and self-care to attend to psychological difficulties
To understand the different types of mental health services available
To learn ways to seek out mental health services
Bio:
Dr. Cristina Muñiz de la Peña is a psychologist specialized in mindfulness, trauma, family-systems therapy, somatic therapy, attachment, the therapeutic alliance, and multicultural conscience. Dr. Muñiz de la Peña currently teaches mindfulness-based therapy at the Universidad Internacional de la Rioja (UNIR) for the Master program in Psychotherapy: Third Generation Therapies. She also holds a private practice in Boadilla del Monte, Madrid, where she provides individual, couples, family, and group therapy. Prior to the pandemic, Dr. Muñiz founded and worked for 8 years as the director of mental health services at Terra Firma, a program focused on providing services for unaccompanied refugee and migrant youth at the Montefiore Hospital in New York. Currently, she serves as a member of the board of Terra Firma since it became its own non-for-profit organization in 2020.