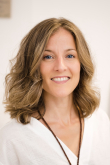 Thursday, February 16, 2023
9:30pm Lecture hall 1, level B
Cristina Muñiz de la Peña, PhD, CCEP
Creating a Wellness Culture in the Workplace, Together
Contents:
Review of concepts of mental health and wellness

What does it mean to experience wellness?
Personal wellbeing vs institutional wellbeing
Personal selfcare practices vs institutional selfcare practices
Experiential activity: SWOT analysis by areas (research, admin, IT)

Promoting a wellness culture at work:

Who are we and who do we want to be?
What's the main institutional goal and what's the goal of each area (research, admin, IT)?
What are the values and culture we want to promote as a community?
What are the opportunities and challenges to promoting these values?
Aspiration and goals vs Perfectionism and pressures
Experiential activity to facilitate communication between areas (research, admin, IT)

Consolidating structures of wellness and support

Values
Rituals and community care routines
Resources for wellness support, internal and external
This course is for IMDEA Software staff only.
Objectives:
To do a brief overview of the concepts of wellness, and emotional distress
To learn elements that contribute to wellness cultures at work in general
To explore the elements that promote or get in the way of wellness culture in this line of work and institution
To promote communication within and between areas (research, admin, IT)
To identify the values and care rituals that this work community wants to promote
Bio:
Dr. Cristina Muñiz de la Peña is a psychologist specialized in mindfulness, trauma, family-systems therapy, somatic therapy, attachment, the therapeutic alliance, and multicultural conscience. Dr. Muñiz de la Peña currently holds a private practice in Boadilla del Monte, Madrid, where she provides individual, couples, family, and group psychotherapy. Dr. Muñiz co-founded Terra Firma in 2013, a program focused on providing services for refugee and migrant youth and families at the Montefiore Hospital in New York, where she worked as director of mental health services. Currently, she serves as a member of the board of directors since it became its own non-for-profit organization in 2020. She has worked as professor of psychology at University at Albany, New York, and at the Universidad Internacional de la Rioja, in Spain. She's currently part of the faculty at the Institute of Core Energetics in The Netherlands.