Carmela Troncoso
The information in this page may be outdated, as Carmela Troncoso is currently not a member of the Institute.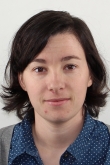 PhD - KU Leuven, Belgium
Former Faculty Researcher


Short bio
Carmela Troncoso holds a Master's degree in Telecommunications Engineering from the University of Vigo, Spain. She received her Ph.D. in Engineering from the KU Leuven in 2011, where she was a student at the COSIC Group. Her thesis "Design and Analysis methods for Privacy Technologies", advised by Prof. Bart Preneel and Prof. Claudia Diaz, received the ERCIM WG Security and Trust Management Best Ph.D. Thesis Award. During her PhD Carmela was a research visitor at many well-known security groups, amongst them Microsoft Research Cambridge, the University of Cambridge Computer Lab, or the LCA1 lab at the École Polytechnique Féderale de Laussane.
After a year of post-doc at KULeuven she joined Gradiant, the Galician R&D Center in Advanced Telecommunications, where she became the Security and Privacy Technical Lead. At Gradiant Carmela worked on security and privacy practical solutions with local and international companies, filing one patent on vehicle-to-cloud secure communications.
In October 2015 Carmela joins the IMDEA Software Institute as Researcher to continue her academic career mostly focused on privacy-related topics.
Carmela's research focuses on understanding how to achieve better privacy protection. She is mostly interested in two aspects building privacy-preserving systems and developing methodologies that help engineers embedding strong privacy guarantees in their designs; and developing techniques to systematically quantify the private information that an adversary can infer from data she may have access to. Recently she has becomed very interested in genomic privacy, and in finding solutions to enable safe sharing of genetic data.
For information pelase visit her personal website.
Research Interests
Security and Privacy research, building privacy-preserving systems, systematic quantification of privacy, genomic privacy, location privacy, anonymous communications.